We figure out how the sequel to the third-person cooperative action turned out. Was Remnant 2 able to repeat the successes of the original, or did it even surpass the first part of the series?
Review of Remnants 2
The first Remnant may have gone unnoticed by many gamers, but the Gunfire Games title was surprisingly good. The key moments of the action were dynamic shootouts, many secrets and brilliant boss battles. The sequel improved on these aspects and redesigned some of the systems based on feedback from its fans. Let's figure out what came of it!
And yes, if you really want to understand what's going on in Remnant 2, be sure to check out Remnant: From the Ashes. But if the story part of the world is not so interesting to you, you can definitely skip the original.
Those who played the first Remnant will find a lot of references and even some familiar characters in the sequel. The story develops many years after the main character breaks the Root - a mysterious organism that can travel between worlds and pursues the only goal - to enslave all life in the universe.
Obviously things will make a lot more sense in terms of story after beating the first game, but even then Remnant 2 takes secrets and puzzles to a whole new level. Each playthrough will be different, as players may miss certain hidden areas or puzzles on their first run.
In addition, the game randomly generates a world for each player when they start a new game, so you have to fight different bosses or go through completely different story arcs than your buddy. Those who played the first game should be familiar with a similar system.
At the start of Remnant 2, you can choose a character from one of five classes or archetypes, as the developers call them - Hunter, Fighter, Medic, Canine handler or Strelok (the latter is available to those who have pre-ordered; the rest will have to unlock it already in the game itself). Each has its own starter set of weapons and a Primary Technique that defines the role of the class. As you level up, you'll unlock new class skills and techniques, but you won't have more than one primary technique.
Once you get your current archetype to level 10, you will be able to use a secondary class, which was not the case in the first game. You will be able to equip a secondary class, gaining access to all its skills, with the exception of the main technique. What the game doesn't say is that there are hidden classes in Remnant 2 - much more powerful than the base ones.
Remnant 2 is full of secrets and mysteries. This is one of the games that not only encourages exploration, but rewards your progress with a substantial reward. In terms of puzzles, there is an interesting balance between puzzles that can be solved right away because the solution is in front of you, and puzzles that require one or more playthroughs to solve. The bad news is that you don't know which is which, so don't be discouraged if you can't solve the puzzle right away (and don't give up too soon). At the very least, the internet is already brimming with their solutions!
Another important improvement over the original is the map of in-game locations. Yes, we finally have a functional map that shows not only points of interest, but also any loot you may have missed. This is a great improvement, along with a new UI and elements that now allow firearms, melee weapons, and amulets to be chosen as favorites.
The armor system has also been simplified - all bonuses for wearing a full set have been removed. More importantly, armor can no longer be upgraded , so you will be fully focused on upgrading firearms, creating mods, and so on.
What the original didn't have were mutator systems. The new system allows players to activate special effects by attaching them to weapons. It's essentially a replacement for the armor set bonuses, but with the ability to wear any piece of armor you feel best suits your character.
Each archetype in the game feels different, but at the end of the day, it all comes down to gunplay. Yes, there's a brand new melee-oriented class, but even a Fighter can't do without firearms. I'm also happy to report that the gunfights in Remnant 2 turned out just great. You can feel the recoil of a gun or the pull of a bow string, as well as the weight of a hammer coming down on a monster's head.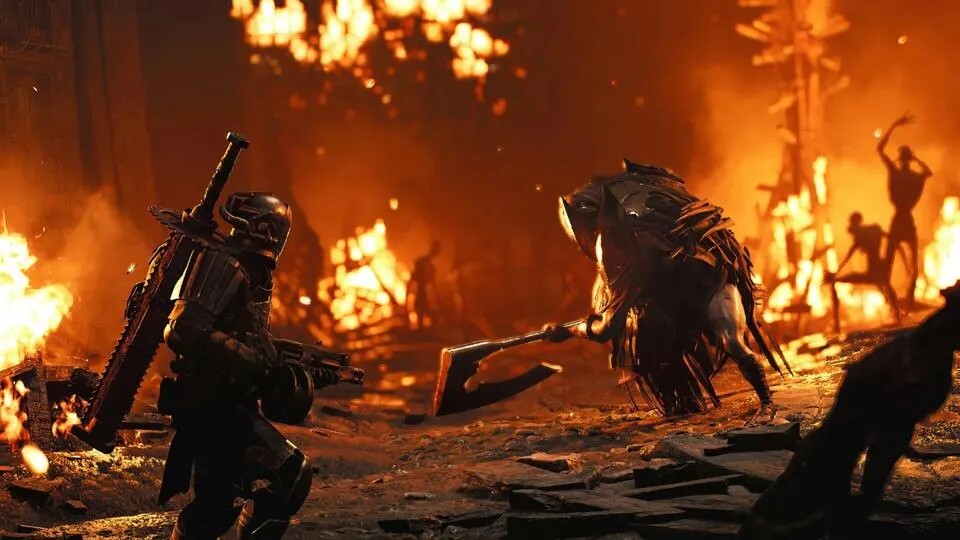 It wouldn't mean anything without amazing boss fights. In this aspect, I can confirm that Remnant 2 is at least as good as the original. Every boss in the game looks quite detailed, offering a fun yet challenging experience. My experience has probably been the same as everyone who has played the sequel. The first few attempts always end in frustration and the feeling that you will never be able to beat your opponent. Remnant 2 is one of the few games where you really feel that success comes after several attempts and finding tactics to fight the boss. Each of them has their own unique mechanics, so once you learn them, you will not be able to hold out against the boss.
Remnant 2 contains so many improvements over the original that I want to see them all in Remnant : From the Ashes . The game was a pleasant surprise. The feeling after defeating a boss, discovering a secret area, or solving a puzzle for which a valuable reward is due, is indescribable. This is how all games like this should be!
With a solid gunfight and progression system, awesome boss battles, and tons of secrets and puzzles, Remnant 2 is very close to being this year's masterpiece. This is one of the games you won't want to miss, whether you like shooters or not. And at least it's GOTY co-op 2023!