At the moment, Valheim does not officially support mods, so we cannot guarantee that they will work correctly. Before using Valheim mods, we recommend that you make a backup copy of the world.
How to download Valheim mods
First you need to download BepInEx Valheim . Once downloaded, place the files in the Valheim installation folder. (We recommend making a backup).
Then download the Unstripped DLL . It is highly recommended to use Vortex ( download here ) to install the files as the mod manager creates its own temporary folder and does not override any of the original DLLs. If you don't want to use this software, the page has detailed instructions on how to apply the new DDLs yourself.
Finally, go to the Nexus game page and install any mod you like! Do it manually or through Vortex.
Note . Disabling and removing unwanted mods is also much easier as Vortex "knows" which files to remove so there is no risk of something being removed by mistake. Its GUI will also show when a newer version of the mod is available, etc?will warn you if there are any file conflicts.



Valheim Plus
The most popular Valheim mod by far is ValheimPlus . This mod is aimed at improving the quality of the gameplay and the life of the viking. Frustrated by how complex building structures are? Remove all building restrictions! Change the creation time of the smelter and so on.
The mod includes several core features, including modifiers for player, building, and object stats, as well as a sophisticated system for creating and placing objects, and a system for modifying already placed objects. If you are determined to build the Viking fort of your dreams, be sure to give this mod a try.

First Person View Valheim
This mod for Valheim allows the ability to zoom in and out. The mod allows you to switch to first-person view.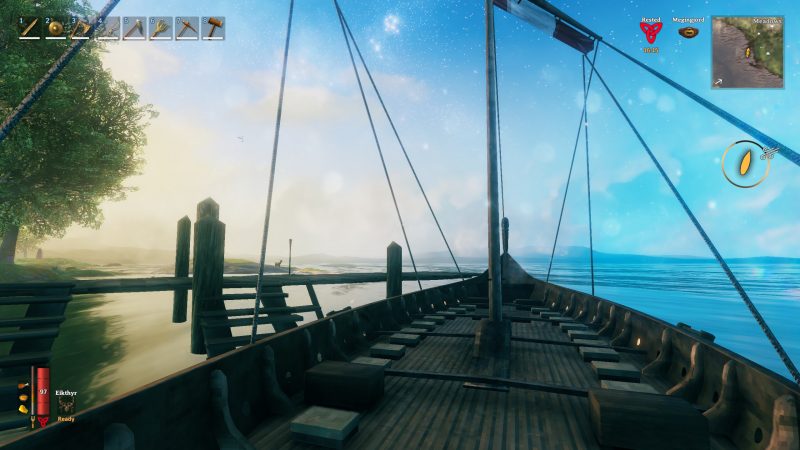 It will be useful for many activities - hunting for deer and wild boars in the dense thickets of Meadows and the Black Forest. Also useful for exploring new biomes, looking for hazards, and spotting enemies before approaching them.
Pull From Containers
Ethis mod will be useful for crafting lovers. It allows you to automatically use resources from the nearest container when crafting, building, using a smelter and other furnace, maintaining a fire, cooking, and so on. You do not have to search for the necessary resources yourself.
Unrestricted Portals
Unrestricted Portals is a mod that allows players to transfer any items through portals. At first, the game developers introduced this feature, but after that they added some things to the black list. The modification disables any restrictions.
Add A Clock
It's hard to keep track of time in Valheim, especially when exploring poorly lit biomes like the Swamp. The mod fixes this bug. Now you can navigate by time and return to your camp at the right time.
Planting Plus
The mod allows you to place berry bushes, mushrooms, thistles, dandelions, birches, oaks and ancient trees using a cultivator.
hold attack
A simple but effective attack mod by holding a button. Allows you to mine ore, cut wood and even fight in a simplified mode. Hold LMB and your character willrepeat actions. Forget about endless clicks!